The Good Samaritan Donkey Sanctuary
Having saved the first donkey in 1972, Jo-Anne Kokas (OAM) formed The Good Samaritan Donkey Sanctuary Inc. (GSDS) to care for rescued donkeys in 1990.
Shortly afterwards, it became a registered charity.
Specifically, it offers shelter, food, refuge, and care for abandoned, lonely, and ill donkeys. And it also helps owners who are no longer able to care for their donkeys due to poor health or needing to move residence.
Most donkeys come to the attention of the GSDS via the public, RSPCA, police or rangers. Typically, donkeys are delivered to the Sanctuary, but often it must organise collection from hundreds or even thousands of kilometres away.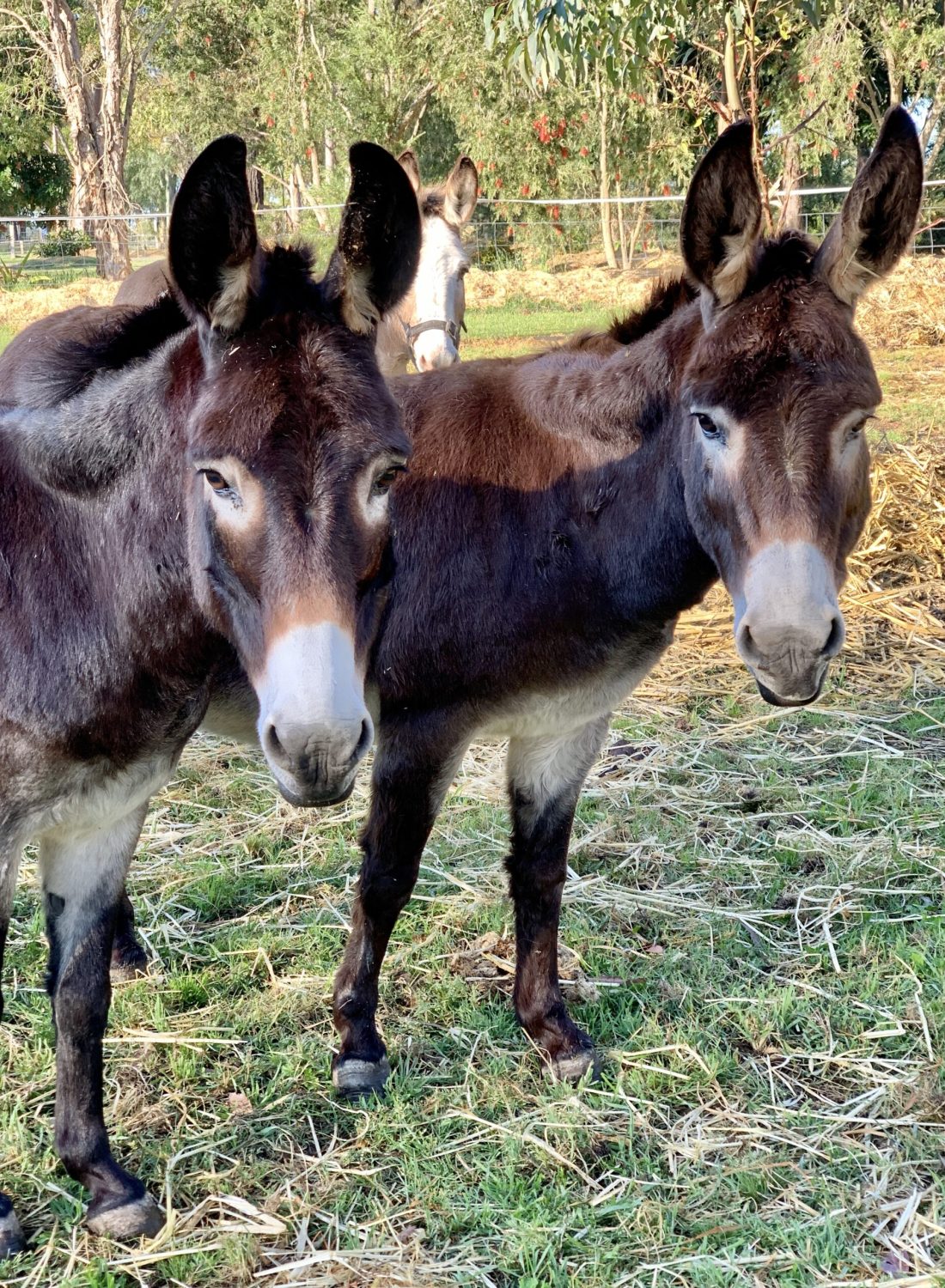 The GSDS covers some 300 acres, its paddocks provide hilly and flat grazing land. It also features an Intensive Care Unit with stalls and equipment to cater for very sick donkeys in need of constant care.
The total herd fluctuates between 70 and 150 donkeys, with up to 25 in the ICU. A further 100 donkeys are fostered out, mostly as companion but occasionally as work-animals. Donkeys are renowned guardians, protecting herds of sheep and goats from wild dogs. Fostered donkeys remain the property of the GSDS so they can be returned to the Sanctuary should their living or health circumstances change.
As we get no government assistance, GSDS is dependent upon wonderful donors like yourself.
The Good Samaritan Donkey Sanctuary is a registered charity, so you can claim a tax deduction any time you donate $2 or more.
Sandy is our Sanctuary Manager and daughter of founder Jo-Anne. Her lifelong connection to donkeys began on the family farm where she grew up. One heart-warming memory from her childhood is being placed on the back of the first rescue donkey her Mum had ever saved. This donkey, known for its quiet nature, introduced Sandy to the world of caring for these gentle creatures.
Sandy's passion for the Sanctuary was deeply ingrained in her from an early age.
Even as she pursued a different career path, becoming a professional photographer and relocating to Mackay for a decade, Sandy's connection with the Sanctuary never waned. Sandy would visit the Sanctuary whenever she could, and she even had donkeys with her because of her love for these animals.
Jo-Anne has passed on her remarkable knowledge, and Sandy has seamlessly picked up where her Mum left off, with the same love, values, and care. Her commitment to the cause is unwavering, and her extensive experience in photography has allowed her to capture the essence of the donkeys and share their stories with the world.
What sets Sandy apart is her unique ability to connect with the donkeys on an intuitive level. She is in-tune with their needs, emotions, and personalities. With her passion, dedication, and a lifetime of experience with these remarkable animals, Sandy continues to be a driving force in the ongoing mission to provide a safe and loving haven for rescue donkeys.
"Sandy isn't in it for herself - it's all about the donkey's."